Aluminum Alloy Casting Services
Our foundry and machine shop work in tandem to produce castings, prototypes, one-off custom products, and large production runs of the finest quality, with typical lead times of 4-8 weeks and expedites in as little as a day.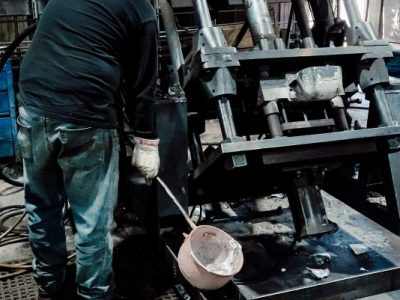 Our variety of permanent mold, gravity-fed die casting machines offer the flexibility and capacity for production runs large and small, with tighter dimensional tolerances and a superior surface finish over sand castings, making for a great alternative to expensive high-pressure die cast processes.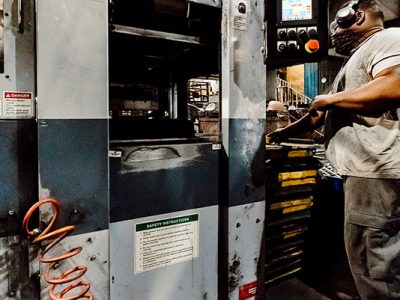 We have both green sand and air set (no-bake) casting capabilities, allowing for cost efficient tooling and parts from low- to high-cost, simple to extremely complex, and small to very large.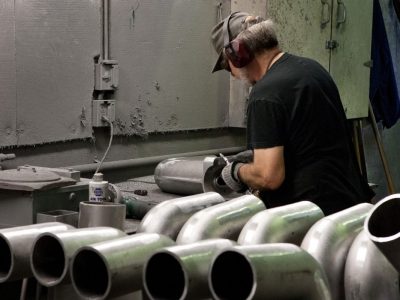 Our finishing process includes taking cooled, molded cast assemblies and preparing them for use. Depending on the casting type, finishing may take several steps or processes on our in-house equipment.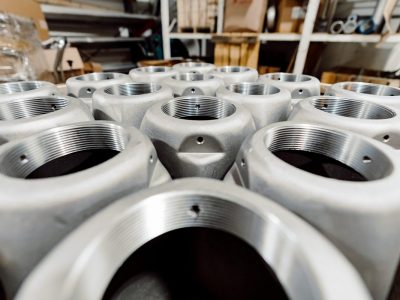 We utilize a proprietary process that allows us to turn around a 3D CAD file to "95% accurate" casting prototypes in roughly a week. We also work with partners where we can "print" a sand pattern that will give you a production accurate part, typically in a few weeks, saving you valuable development time and money.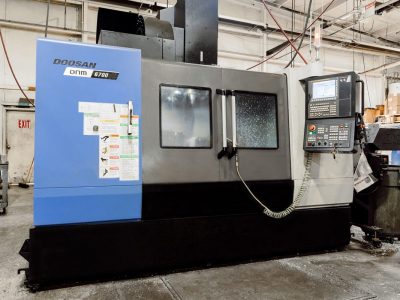 Our full-service machine shop is equipped with CNC turning centers, CNC milling machines and supporting equipment. We work with stainless steel, steel, aluminum, brass, plastic, and castings (ferrous and non-ferrous).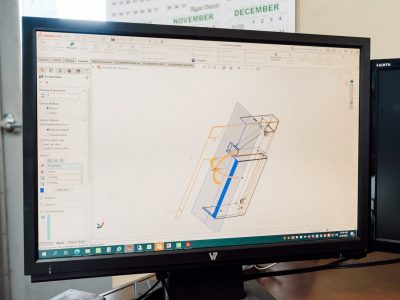 Product & Market Development
Years of corporate experience managing product lines and businesses enables us to help businesses with product and business strategy. From new market entry to product obsolescence, channels to sell through, pricing, acquisitions or divestitures of businesses.
January 28th, 2022 — Cushman Foundry of Blue Ash, Ohio, was acquired by CaneKast™, a leader in non-ferrous foundries. "This transaction enables us to take advantage of opportunities for growth and innovation across our facilities," remarked Reg Zeller, CEO and owner of CaneKast™. "The addition of Cushman provides us with a strategic location within our network and a knowledgeable workforce that can leverage cutting-edge equipment. We started acquiring foundries five years ago because we believe in local manufacturing. We want to continue to create jobs and opportunities for workers while giving customers a high-value, superior solution."
Ermak provides everything from prototypes to one-off custom products to large production runs. We specialize in permanent mold (also known as gravity-fed die cast), green sand, and air set (also known as no-bake) castings, as well as many value-added services such as finishing, machining, and heat-treat.
We are a one-stop-shop for finished, precision cast aluminum parts. Our management team can assist with product and market development, whether you sell direct, through big-box retail, or via distribution.
Our production runs range from one to tens of thousands and from ounces to hundreds of pounds, always at a high tolerance for original equipment manufacturers in the following broad categories: industrial, recreational, construction, utility, and agricultural companies throughout the world. 
We use certified aluminum ingot-A356 / 356 / 333 / C355 / 319 / 535 / 713 and many other alloys, and utilize flask/die sizes from 12″ x 14″ to 60″ x 60″. 
Ermak employees are experts and represent hundreds of years of experience in the industry.
Reach out for free quotes on new or existing products. If you'd like to bounce ideas off the team for how to proceed on your project, we are happy to help. We promise to provide great service whether you are new in the game and unsure of the next step, or are a large company with specific needs seeking flexibility to help you succeed.